Week 5 Tasks
Celebrating Earth Day!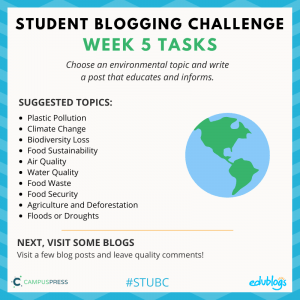 Step One: Choose your topic
What are you interested in? Is there a topic you're passionate about? Or maybe there's a topic you're not very familiar with and you'd like to find out more about?
Select one of the environmental topics in the diagram above or choose your own.
Step Two: Find resources
You might need to do a little bit of research to write your post.
👉🏽 Remember: You cannot copy and paste text off another website and use it as your own. This is illegal and called plagiarism. You must write information in your own words.
👉🏽Include all websites that you looked at for information.
Step Three: Things to include in your post.
An explanation of your chosen environmental issue.
Why this is an issue that you're interested in. Did you hear about it on the news? Is it a problem in your local community? Is it something you haven't heard of but wanted to learn more about?
Some facts about your issue.
Tips on how people can help (for example, if your topic is plastic pollution, you might give tips about using cloth shopping bags and avoiding disposable food wrappers).
Step 4: Post your story & Comment
Make sure to post your story on your blog. Once you have posted your blog fill the link out below.
Next, comment on 2-3 people's blogs. The list below will give you some blogs to visit.
CLICK HERE to see a list of the other blogs you can comment on.